Altar Ego

I am a native of the province of Moravia in the fledgling Czech Republic. After a chronic illness of over 40 years, I'm recovering nicely.
The world events that have swirled around me during my life have necessitated a constantly altered and adaptive existence. I have lived under seven different governments with forms of monarchy, democracy, fascism, military administration, socialism, and communism. I have officially spoken two languages during those regimes.
I used to speak only German when folks came to visit me. My hometown was then called Ebersdorf. My several hundred neighbors consisted of a native folk called Sudetens, who ethnically were germanic. Note that I did not explicitly say "Germans". Once, we were subjects of the Austrian Hapsburg monarchy. After the German/Austrian Alliance lost World War I, my land became a part of the First Czecho-Slovak Republic. Then it was taken over by Nazi Germany and became a part of the Third Reich.
In the aftermath of World War II, all my friends and neighbors were forcibly deported from Ebersdorf and its surrounding territory for hundreds of miles. 3,500,000 Sudetens were exiled in the largest mass deportation of a population in recorded history. The sole basis for deportation was ancestry, yet so few people are aware of the event. It was not only the Nazis who were racist in those days. On a single day, my town was forcibly evacuated and traditions that had lasted 1000 years were obliterated. Everyone was gone, except me.
Under government mandate, a whole new group of people moved in. My town was renamed Habartice. I then had to learn the Czech language of my new Slavic neighbors. My new friends had also been forcibly resettled. Although some of those new people stayed, many left. Some of them could not readily adapt. They felt quite uncomfortable and out of place in my world. Shortly thereafter, our government became Communist and my illness set in. As a result of that illness, I was unable to speak either Czech or German.
My unique nature set me apart from many of my close relatives of similar constitution. That fact alone saved me from destruction. Those of my family that exhibited obvious signs of wealth were forcibly removed. Some of my closest relations were eliminated by cruel and violent means. Although I possessed some wealth, it was an abstract wealth. My strength and power did not reside in my physical body, but in the intangible thoughts of my neighbors, whether Czech or Sudeten. They believed in me. In that manner, I was spared.
As a remaining, original inhabitant, nobody was allowed to visit me or to partake of my services. I was forced to serve in many roles for which I was not trained and to serve in many capacities that I did not enjoy. I was very lonely, but my faith sustained me. I knew normalcy would return someday. Many of my new Czech friends sympathized with my plight and hid some of my possessions from the Communist authorities. Nevertheless, I became very depressed and run-down.
Preventative medicine was impossible under the Communist regime because money was scarce. I had no role, no function and, thus, no way to obtain money. Nevertheless, I hung on to existence.
Miraculously, in 1989 my illness lifted. I was again able to speak. The changes came slowly, but they came. Many of my former Sudeten neighbors remembered me. They came to visit me and were shocked by my physical appearance. All such returnees are forbidden to return permanently by the Benesch Decree that banned them. Nevertheless, they came to reminisce. They all recalled me when I was much younger and fit.
They donated monies to help to rehabilitate my deteriorated body. They did so out of the goodness of their hearts even though our relationship had been dormant for nearly half a century and we had not communicated in any physical way during all those years. Most were children when they were deported, but they remembered me fondly. I was surprised.
Their magnificent generosity has led to my remarkable physical recovery, further aided by the return of some of my long hidden belongings. My mental state is also much improved, since I am again allowed to commune. I speak Czech openly and joyfully entertain my friends on a once a month schedule.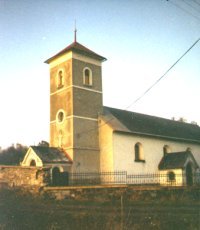 Who am I? In the central European village formerly known as Ebersdorf….. I am the Roman Catholic church.
by Frank Koerner
E-mail comments to the author at: Frank.O.Koerner@cpmx.saic.com
---
This article is © Copyright 1999 by Frank Koerner
Return to Catholic Planet main page.